IPTV
What is IPTV?
IPTV - Internet protocol television - refers to the delivery of digital television and other audio and video services over broadband data networks using the same basic protocols that support the internet.
There is nothing new about the idea of using internet technology to deliver video, but internet protocol television should not be confused with the web experience of streaming video, which has generally fallen far short of anything we might expect to see on television.
With increasing broadband access speeds, together with improvements in digital video compression, it is now possible to deliver high-quality video services over a telephone line. A small decoder box can connect a television to a telephone or network point, rather than an aerial socket, cable or satellite feed, and in theory the pictures should be just as good. Using new advanced compression schemes, in the future it will even be possible to deliver high-definition television in this way.
This opens up the television market to telephone companies and other service providers, with lower barriers to entry than existing digital platforms. With revenues for fixed-line phone services threatened by mobile operators on the one hand and the prospect of free or low-cost calls over the internet on the other, traditional telephone companies need to sustain their diminishing call revenues with new services. One of their main objectives is a 'triple-play' of voice, video and data services on a single bill.
Although service providers will attempt to bundle television channels and compete directly with cable and satellite companies, once a broadband connection is hooked up to the TV, programmes could potentially come from anywhere.
While the public internet may not currently be able to guarantee the quality of service necessary for live broadcasts, it is certainly possible to download programmes to a local storage device.
A number of start-ups are already looking to exploit the opportunity to cut out cable companies and provide a package of programming without incurring the massive capital expenditure associated with building their own network. Significantly, it becomes economically viable to reach a global market, even with niche material.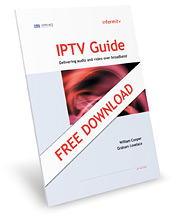 Download your copy today
IPTV Guide:
Delivering audio and video
over broadband
William Cooper
Graham Lovelace
Published by informitv
December 2006
informitv
has the latest IPTV news - sign up for the free newsletter