Overview
This executive guide presents the key issues that every senior executive and decision maker involved in media and communications needs to know and understand about the future of television.
Drawing on decades of combined experience, extensive interviews and the latest available industry research, this concise executive guide provides an authoritative overview of the emerging market for delivering audio and video services over data networks.
The convergence of broadband and broadcast delivery will inevitably disrupt existing telecommunications and television industries as they collide and collapse conventional boundaries.
The network television revolution will change channels of distribution and fundamentally affect the way television is viewed in the future.
Billions are being bet on the outcome that could radically transform the media landscape forever.
Multichannel television of a few hundred linear channels will soon seem archaic. Viewers will eventually be able to choose from thousands of programmes and channels from around the world, much as it is already possible to stream radio services today. The network will in effect become an indefinitely expandable personal video recorder.
This presents many threats and opportunities to the existing broadcasting industry and represents a real revolution in digital television.
In response to recent unprecedented global interest, informitv and Lovelace Consulting have produced this exclusive executive briefing that explains the key issues in simple terms that cut through the hyperbole and jargon to provide a clear picture of the next revolution in communications.
With an independent perspective, this report places these developments in context to empower decision makers to formulate their own strategy in response to the significant threats and opportunities presented.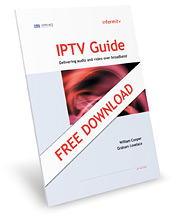 Download your copy today
IPTV Guide:
Delivering audio and video
over broadband
William Cooper
Graham Lovelace
Published by informitv
December 2006
informitv
has the latest IPTV news - sign up for the free newsletter